Thomas Bentley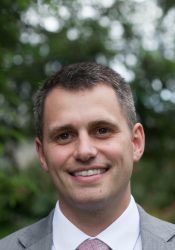 Department of Political Science
Afrobarometer
BIOGRAPHY
Thomas Bentley graduated from the University of Iowa in 2013, where he received a BA in Political Science and minors in International Studies, History and International Relations.  He entered the PhD program in the Department of Political Science at Michigan State University in the Fall of 2014 and completed his disseration in Spring 2020.  Upon graduation from the University of Iowa, he received the Governor's Cup Award from Governor Branstad, and was recognized as a Distinguished Military Graduate and commissioned as a US Army Engineer officer.  Some of his military education includes Engineer Basic Officer Leader Course, Air Assault School, and the Sapper Leader Course. Among some of his awards, he was recognized as the 2016 Junior Officer of the Year for the Iowa Army National Guard. 
Substantively, his research interests focus largely on political violence and civil war with emphasis in the causes, dynamics and outcomes of civil conflicts and the effects of UN peacekeeping intervention on rebel behavior during civil conflict. His dissertation broadly examines the relationship between UN peacekeeping and rebel behavior during civil war, and the subsequent effects on the conflict's peace processes. His regional focus is in Africa and the Middle East. At MSU, he has served as a researcher with Afrobarometer, a collaborative survey research project that conducts public opinion research on the quality of democracy and governance across Africa.  
In his free time, he enjoys hiking, traveling, running, spending time with his family and friends, and cheering on the beloved Iowa Hawkeyes.  
---