Nicolas Bichay
Graduate Students
Comparative Politics
Research Methods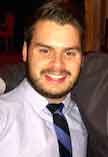 Department of Political Science
BIOGRAPHY
Nicolas Bichay joined the Department of Political Science as a doctoral student in August of 2015. He received his Master of Arts degree in Political Science from Michigan State University, and his Bachelor of Science degree in Political Science and Economics from Grand Valley State University. Prior to Political Science, Nicolas was a student of Physics and Computer Programming, however he quickly learned how much more personally rewarding it could be to use mathematical models to study elections and government instead.
Nicolas's fields of study include comparative politics and research methodology. His area of research focuses on political economy, electoral institutions, and statistical modeling. Specifically, he is interested in extremist and populist parties, electoral regimes, income distribution, economic development, and welfare politics.
A Canadian citizen born to an Egyptian-immigrant father and a Greek-immigrant mother, Nicolas is an admirer of culture and an avid world traveler. He is an enthusiastic fan of space and NASA, and loves nothing more than a great meal.
---
LINKS
Website
---