Erica Briggs
Public Policy
American Politics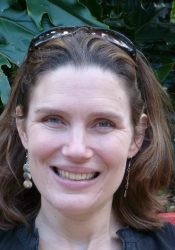 Department of Political Science
BIOGRAPHY
Erica Briggs entered the Ph.D. program in the Department of Political Science at Michigan State University in the Fall of 2014 and completed her dissertation in Spring 2020. Dr. Briggs is the executive Director of Scenic Michigan.
She studied public policy and American politics, while pursuing a specialization in Global Urban Studies.  Her research interests focused on decision-making in government and transportation and land use policies at the state, regional and local levels.  She is particularly interested in the role regional institutions and local governments play in advancing sustainable systems and policies, as well as how these issues relate to public opinion and equity.
Erica received her BA in political science from Indiana University and MPA from Eastern Michigan University.  For the past ten years she has worked as a project manager and program director in the field of sustainable transportation policy, while serving on numerous boards and commissions in Ann Arbor and at the state level.  In her free time, she enjoys biking, running, yoga and spending time with her family.
---