Shay Manawar
MPP Students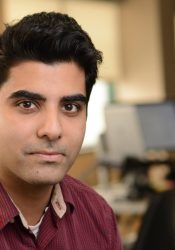 Department of Political Science
BIOGRAPHY
Shay is a 2013 graduate from Michigan State University in public policy where he focused on understanding various issues impacting Michigan's urban growth. Upon graduation, Shay worked at the Spartan Innovations' startup incubator, The Hatch, for three years. The experience led him to work on several exciting lean startup ventures and his involvement with the entrepreneurial ecosystem has remained ever since. Shay is currently serving as the Co-Director of Startup Grind Lansing. It is a global startup community designed to educate, inspire, and connect entrepreneurs.
In 2017, he joined Michigan Virtual's business operations team. Michigan Virtual was created by the State Legislature in the Revised School Code (Act 451 of 1976) to help the K-12 community by enhancing opportunities for students to learn through online learning innovations.
Shay's core passion lies around the intersection of law and innovative public policy that leads to sustainable economic growth in Michigan's mid-sized metropolitan cities. Realizing his dedication, in the summer of 2019, Lansing's former mayor, Virg Bernero, contracted Shay to assist in rebranding of the Capital Area Manufacturing Council. It is an executive-level manufacturing association that works together to improve mid-Michigan's manufacturing competitiveness by tackling issues facing this key sector in our regional economy.
Outside of work, Shay enjoys playing squash, studying orcas, watching cricket, and reading nonfiction
---