Erica Maylee
Graduate Students
International Relations
Comparative Politics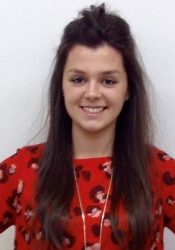 Department of Political Science
BIOGRAPHY
Erica Maylee joined the PhD program at Michigan State University in 2013 after graduating Magna Cum Laude from Central Michigan University, where she received a BS in Political Science. She studies International Relations and Comparative Politics. 
 Erica's research interests include human rights and international organizations. She also has a special interest in the International Criminal Court, having spent some time studying in The Hague, Netherlands. 
 Erica's dissertation examines the role of non-governmental organizations in helping states to incorporate provisions of international treaty law into domestic policy. She also examines the effects of incorporation on respect for human rights.  
---