Boitshoko Molefhi
MPP Students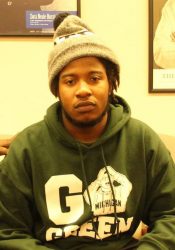 Department of Political Science
BIOGRAPHY
Boitshoko Molefhi attained his BSc in Microbiology from Michigan State University and is returning for his MPP in the fall of 2018. During his tenure there, he worked as a research assistant in both fields of study contributing to ground-breaking work in drug discovery in the fight against tuberculosis, and collegiate curriculum design respectively. He spent the summer of 2016 working for Data Driven Detroit as a policy analyst as part of the Innovate Gov program. Since graduating in 2016, he has worked in several countries as a policy development consultant in multiple industries – Avalon Medical Laboratory in St. Kitts and Nevis as policy consultant and laboratory technician, Keapoka Explore in Botswana as a Business Development Strategist, and Seed of Gratitude Foundation as a Project Management Officer.
Some of his areas of interest in policy include ethics in bio-science policy design and policing, systemic problems with education standardization, and policy frameworks around data driven decision-making regarding tools used for data mining.
Upon graduating, he plans to combine his acumen from both fields, and work in understanding the intersection of bio-science policy and education on how nutrition affects student achievement at all levels of education. Work in this area will be key in shaping infrastructural development in communities across the country geared to shaping the optics of achievement, and more importantly provide a rubric to measure the city, state, and federal governments performance in addressing the social wellbeing of their constituents.
---