Emma Slonina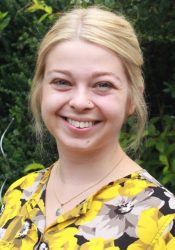 Department of Political Science
BIOGRAPHY
Emma received her Ph.D. in May 2020 after defending her dissertation, "Julie, Not Emile: Rousseau's Alternative Education," which examines Rousseau's vision of women's education in his romantic epistolary novel, Julie, or the New Heloise. She was named the Thomas W. Smith Postdoctoral Fellow at the Matthew J. Ryan Center, Villanova University for 2020-2021.
Emma entered the Ph.D. program in Fall 2013 as a University Distinguished Fellow, having received her B.A. in political science and Hispanic studies from the University of Michigan-Dearborn in April 2012. She has taught as an adjunct at her alma mater, and more recently as a Visiting Instructor of Political Theory and Constitutional Democracy in James Madison College at Michigan State University. She is an award-winning educator, having been awarded the Department of Political Science Best Graduate Assistant Teaching Award and twice nominated by the College of Social Sciences for a University Excellence in Teaching Citation.
Her broad research interests include Rousseau, the Enlightenment, women in political thought, liberal education, citizenship and virtue, and pedagogy. She is currently working on an article exploring Mary Wollstonecraft's writings on education in response to Rousseau's educational proposals, and an article on the "bisexualizing" education Rousseau presents in Julie.
 In her spare time, Emma regularly volunteers in the preparations department at the Eli and Edythe Broad Art Museum, and can often be found on long walks and hikes around Michigan and Georgia.
---
DISSERTATION
 Julie, Not Emile: Rousseau's Alternative Education
 Emma's dissertation seeks to "rehabilitate" Rousseau as a source of potential answers for our enduring question of how to live happily and morally in a modern society, especially as this question relates to women. While his educational proposals to help cure our dividedness and selfishness face rejection from many readers today, based on a reading of Emile, he is not the simple advocate of a sexist education that oppresses women for the sake of their husbands. Rather,  he recognizes the unique problems facing women in society and he presents an alternative education to resolve these problems in his preceding novel, Julie. In it he makes a serious attempt to present women with an education to be free, happy, and virtuous, just as he attempts with Emile.
 Committee: Arthur Melzer (chair), Dustin Sebell, Constance Hunt, Matthew Mendham
---
LINKS
---