Michigan Government Semester Program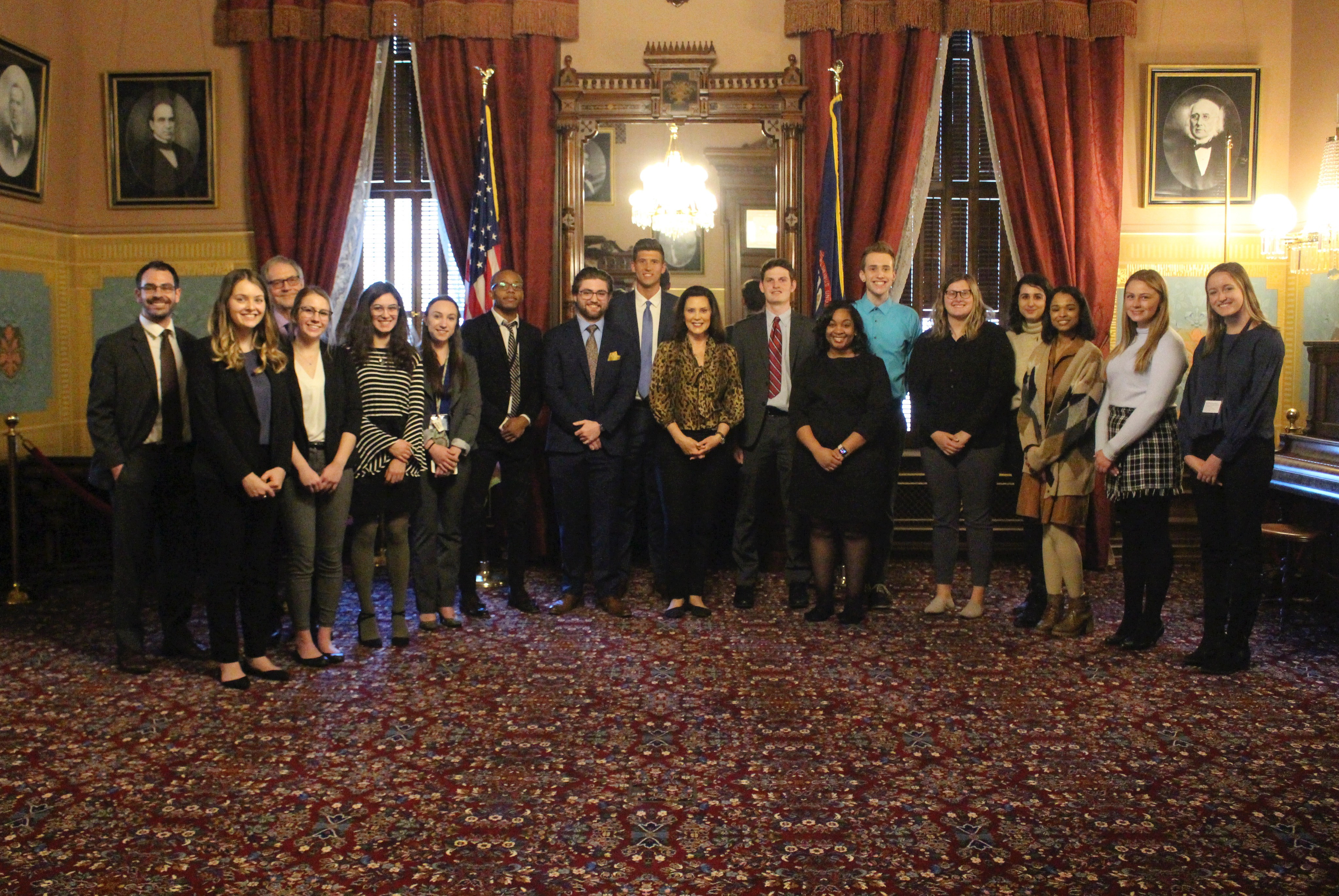 The Michigan State University Political Science Department offers the Michigan Government Semester Program every Spring Semester. The program focuses on the study of Michigan government and politics and development of professional experience and skills for a career in or related to public service. The program is unique in that it bridges the gap between the theoretical or textbook study of state politics and the real-life practical aspects of state politics. The program consists of the following components:
Enrollment in PLS 422 "Michigan Government and Politics" (4 credits). This class examines institutional, behavioral, and policy aspects of state government and politics using Michigan as a case study. Topics covered include the executive, legislative, and judicial branches of Michigan government; electoral, party, and interest group behavior; and state public policy issues including education, environment, and economic policy.
Enrollment in PLS 422, "Professional Development Skills for Public Service" (4 credits). This class focuses on skills to enhance a career in or related to public service. An emphasis is particularly put on writing skills, such as writing, policy memos, policy briefs, speeches, press releases, and testimony. We also examine the use of social media in government, ethics, and oral skills such as speeches and oral testimony.
Enrollment in PLS 494, "Field Experience – Internship" (6 credits). Each student is required to hold an internship with a state government (or related) office. Most students are placed with state legislators. Placements are made to enhance the interest of the students where possible. Internships require about 18 hours of work, times to be determined between the student and intern sponsor. Internships give students practical experience and important professional contacts.
The program is worth 14 total credits and is limited to about 20 students. To enhance the Michigan government experience, class is held twice a week in the capitol building and/or a nearby office building. Class time is spent primarily with prominent guest speakers from or related to Michigan government, discussion of topics being studied, discussion of writing assignments, and the sharing of internship experience. We emphasize a seminar-type atmosphere, encouraging interaction and discussion between students and with the speakers. The classes are taught as hybrid courses, so exams, writing assignments, readings, and discussion forums are held online through D2L.
Michigan Government Semester Program Requirements
PROGRAM PREREQUISITES:
In order to qualify for this program, the following prerequisites must be met:
Political Science Major
Junior or Senior status preferred
Completion of PLS 201 recommended
Maturity and commitment to professional achievement
PROGRAM APPLICATION PROCESS:
The following material should be submitted to Professor Charles Matzke, matzke49@msu.edu or 318 South Kedzie Hall:
A professional resume
A cover letter with the following information: reasons for applying to the MGSP; your career goals, specific area of interest within political science; your internship preferences (such as legislature, governor's office, department, lobby or PR firm, public interest group, or other); and your policy interests (such as environment, health, education, criminal justice, or other). Finally, do you have a partisan or ideological preference (Republican/Democrat, Liberal/Conservative)?
Arrange an interview meeting with Professor Charles Matzke, Program and Internship Coordinator