MSU PLS's Matt Grossmann publishes 'How Social Science Got Better'
October 1, 2021 - Caroline Brooks
Michigan State University political scientist Matt Grossmann has had a busy five years tracking two controversial presidential elections, deepening polarization, and power shifts in Lansing and Washington. During that time, the director of MSU's Institute for Public Policy and Social Research has represented the university on CNN, C-SPAN, and NBC News, as well as in publications including The Washington Post and Politico.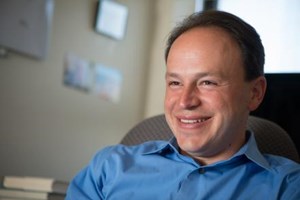 In 2018, Grossmann took a yearlong sabbatical from MSU to pursue visiting faculty and scholar appointments at the Massachusetts Institute of Technology and Harvard University. During this time, Grossmann started what would become his latest book, "How Social Science Got Better: Overcoming Bias with More Evidence, Diversity, and Self-Reflection." It's broad landscape ranges from Donald Trump's rise and fall to the 2008 Great Recession to what makes humans unique. Grossmann's book also explains how social science research has evolved and disputes a commonplace assumption that social science is faux science clouded by hidden researcher agendas.
 Can you describe how writing this book is different than others you've authored?
MIT and Harvard allowed me to peruse new fields and explore. I was even a student again: I enrolled in undergraduate classes, attended seminars and met with different groups — students and faculty — to formulate this book.
 I also tapped the resources we have at IPPSR to survey nearly 9,000 tenure track faculty members at 67 public and private universities.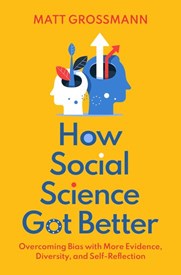 Over the past decade (or longer), what has been the most profound change in social science research — and the people in this area of study?
Not that long ago, social science was associated with impenetrable theory and out-of-date data — or with researchers who made overbroad claims with limited evidence.
 Today, social science is a major part of the public conversation. It is seen in greater diversity and a bolder voice — from advising leaders and governments to sharing research and findings directly with consumers and advocates through many new platforms.
 We're now using research methods that enable representative data and appropriate causal inferences, and we're noting our remaining limitations. The results now resonate with expanded and integrated audiences, professions and disciplines.
 Most recently, for example, the COVID-19 pandemic has reminded us again of the importance of getting social science right. Studies of politics, administration, markets, cultures, social norms and beliefs have all been important in understanding the spread and effects of the disease and in guiding policy and practice.
 The field of research — and the people in it — have overcome biases with more evidence, diversity and self-reflection.
 What impact are you hoping this book has on people in- and outside academia?
Social science is a difficult enterprise, but it is hardly impossible: We can identify social regularities, describe how social life is changing and even test a few ideas for changing social behavior.
 I want the public to see that we know our limitations but we're justifiably excited about our tools. Policymakers should learn that social dynamics are critical to solving most of our social problems, but they are neither easy to understand nor to quickly improve. Researchers will hopefully witness a lot of common problems and positive trends across disparate fields, with signs that we can always learn more from each other.