First-generation farmworker student begins college career as MSU PLS student
September 15, 2021 - Henry Mochida
This article was first published in MSUToday on Sept. 15, 2021. https://msutoday.msu.edu/news/2021/first-generation-farmworker-student-begins-college-career
Luz Vazquez Hernandez is a first-year and first-generation student at Michigan State University. A daughter of parents who are migrant farmers from Mulberry, Florida, Vazquez Hernandez, a political science major, is the second in her family to attend MSU. Her brother Juan is a senior.
Her father helped her move in at the start of fall semester, with her mother unable to make the trip. "He was worried, but he knows that I can do it, as I tend to be optimistic about my life," said Vazquez Hernandez.
Realizing her dream, with a supportive family
Vazquez Hernandez began working at a young age. When other students were enjoying their summer vacations, she joined her family picking crops. "Blueberries, strawberries, zucchinis, cucumbers, chilies," she rattled off. 
Perhaps a strong work ethic in the making or seeking a better life inspired Vazquez Hernandez to do well in school, but it took great sacrifice. She had to balance schoolwork with work in the fields. Vazquez Hernandez would spend every holiday and break from classes picking crops, caring for siblings, cooking and cleaning.
Much of her junior year at Mulberry High School was spent working on roofs during the COVID-19 pandemic. It was the only option for work as the family could no longer migrate to pick crops. Vazquez Hernandez's mother couldn't go with her father because she was afraid of heights, so Vazquez Hernandez helped until senior year began.
With her father aging from strenuous labor in hot weather, mother still working in the field and two younger siblings in 6th and 8th grade, Vazquez Hernandez became more resolved in pursuing a college degree. 
"We would take [my younger siblings] out to work, because we wanted to show them that they should get an education or they'll be out there doing that kind of work," said Vazquez Hernandez.
Vazquez Hernandez is inspired by her parents who risked everything for her and her siblings. "We are a very close family. My parents are my role models, and they taught me to not take anything for granted," she said.
This year, her brother will be the first in the family to graduate with a college degree.
Finding mentors and support along the way
Growing up, Vazquez Hernandez had to come to terms with negative stereotypes. "Back in Florida, Mexican students are not perceived as strong academic performers based on their skin tone," said Vazquez Hernandez.
"There were times I told myself that I couldn't do this. I'm not smart enough. I don't have the opportunity," she said.
Vazquez Hernandez had key mentors in her life, including Dani Higgins, a migrant advocate at Mulberry High School whom she credits with driving her academic success. "Ms. Higgins showed me that Hispanics could do well in school too," she said.
And she didn't just do well, she excelled. During Vazquez Hernandez's senior year of high school, her course load included three AP classes, and she graduated with a 3.9 GPA.
Vazquez Hernandez recently moved into MSU's East Lansing campus and already has been connected to the College Assistance Migrant Program or CAMP. This residential program assists students from migrant and seasonal farmworker backgrounds with academic, social and financial support to complete their first year of college. "Everyone is welcoming," she said. "I feel supported and have been able to engage with other students and make some connections."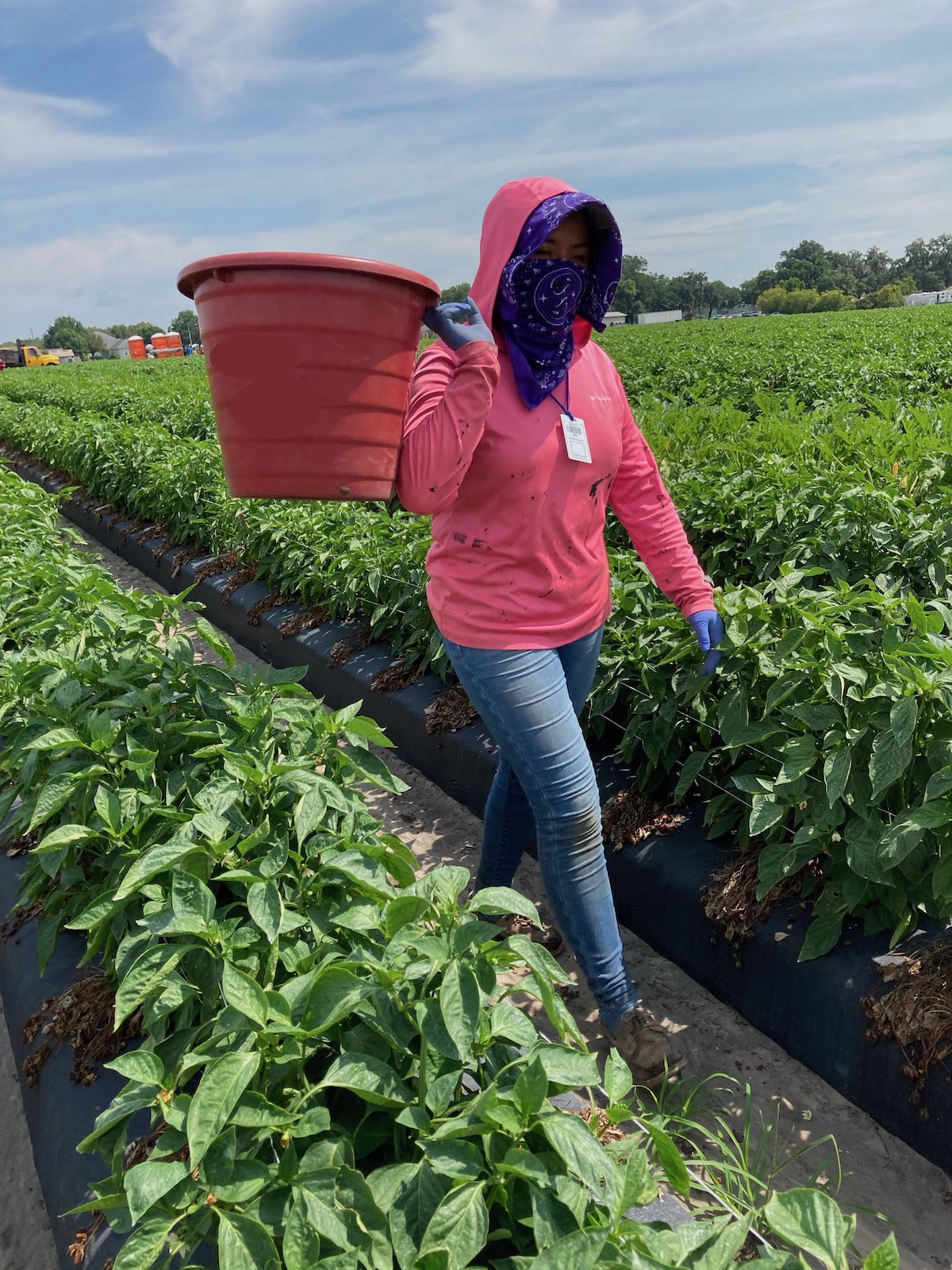 Luz Vazquez Hernandez in the fields.
The CAMP program is part of Migrant Student Services at MSU. "We know that success in the first year is crucial to the undergraduate students' ability to complete their degrees," said Luis Alonzo Garcia, director of Migrant Student Services.
This year, Michigan State University is welcoming its largest incoming class of Hispanics/Latinos with over 600 students admitted.
Despite the changing demographics of the country and more students like Vazquez Hernandez pursuing higher education degrees, several cultural barriers remain that limit the enrollment of Hispanic students, including language differences, not engaging families during recruitment and a lack of senior leaders from Hispanic backgrounds. "Only 0.06% of senior management at MSU is Hispanic, and that needs to change for MSU to become a national leader," said Garcia.
Access to equitable resources is essential to the retention and graduation rates of Hispanics. 
MSU offers a number of scholarships in the spring semester including the Efrain and Francisca Marinez Farm Workers Scholarship established to support and encourage educational opportunities for farm working students, and the Todos Organizados Para Cuidar Estudiantes Scholarship established to support students who exhibit involvement and commitment to the MSU Chicano/Latino community. MSU also offers the Dr. Martin Luther King Jr. Endowed Scholarship Program that recognizes MSU students who are committed to community leadership.
Being a role model for Hispanic students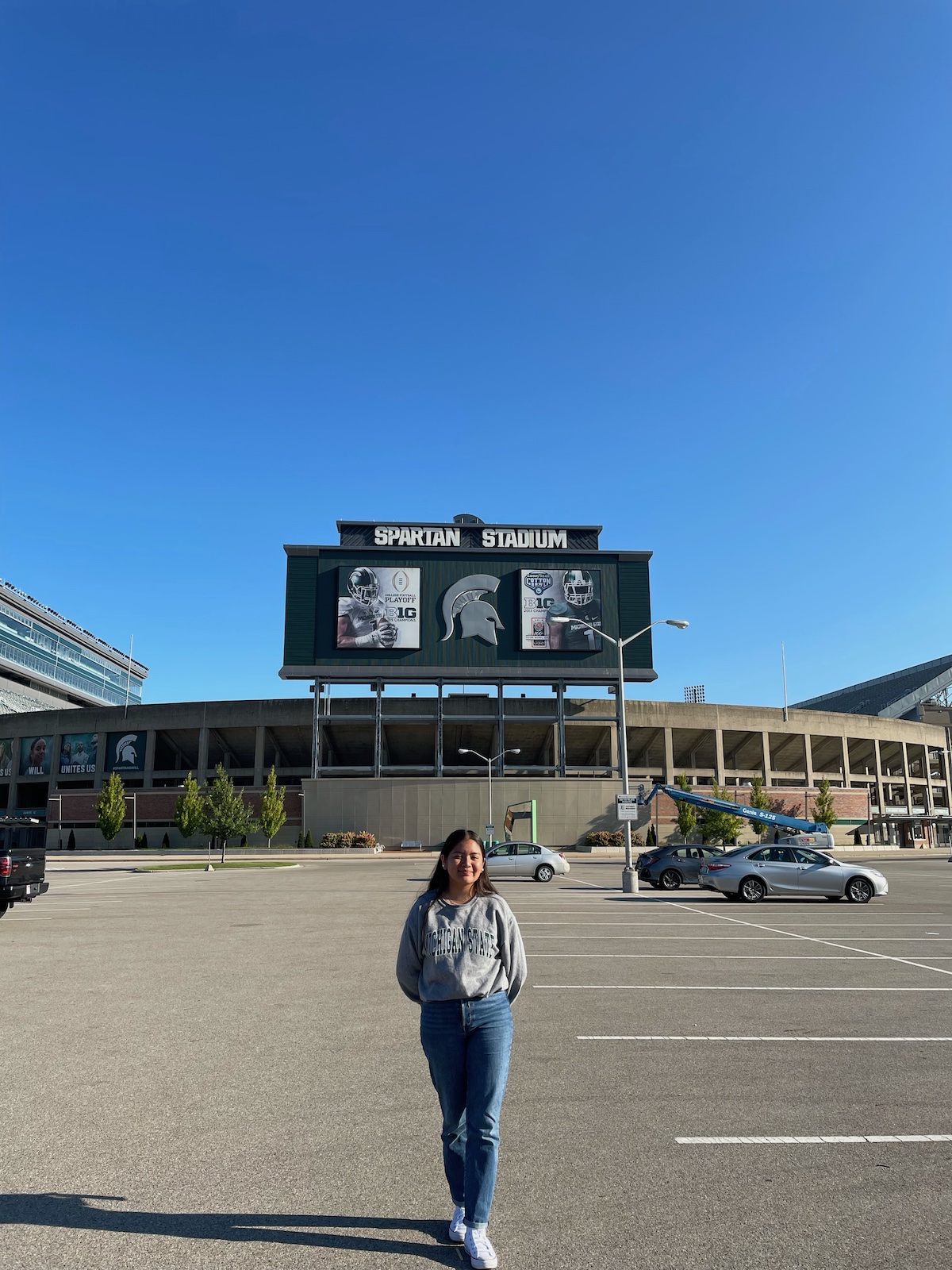 Luz Vazquez Hernandez's first day on campus.
National Hispanic Heritage Month is recognized at MSU and nationally from Sept. 15 to Oct. 15. Vazquez Hernandez is no stranger to leadership around the month. She previously served as president of Adelante, a student club back in Mulberry. She and her classmates celebrated the month by raising awareness about migrant workers, volunteering in the migrant farmworker housing camps, organizing group activities for local Guatemalan children and helping in the community.
When asked about what type of programs and initiatives she would like to organize at MSU, Vazquez Hernandez replied she would aim to create awareness, perhaps with a podcast, to encourage others to share their stories like she has to raise awareness and open connections.
And if she could eat any food during the month, she'd choose her favorites from her family's taco stand: her sister's empanadas, her mom's tortillas, dad's tacos and agua de melón, a fresh fruit drink.
If Vazquez Hernandez were to give a message to the community during National Hispanic Heritage Month, it would be, "Do not give up. As Hispanics, we can do it too," she said.