Mikayla Stokes named 2023 PLS Outstanding Senior
April 27, 2023
Political Science Scholar Mikayla Stokes has been named the Outstanding Senior for 2023. Stokes graduated from Western High School in Sunrise, FL. She is a Political Science Pre-Law major. 
"Mikayla was selected for this award based on outstanding academic achievement and department citizenship.  She is a PLS Scholar, a Social Science Scholar, a 4.0 GPA graduate, a Masters of Public Policy linked student, and was a participant in the Michigan Government Semester Program," said Dr. Erica Frantz, Undergraduate Program Director and Associate Professor of Political Science.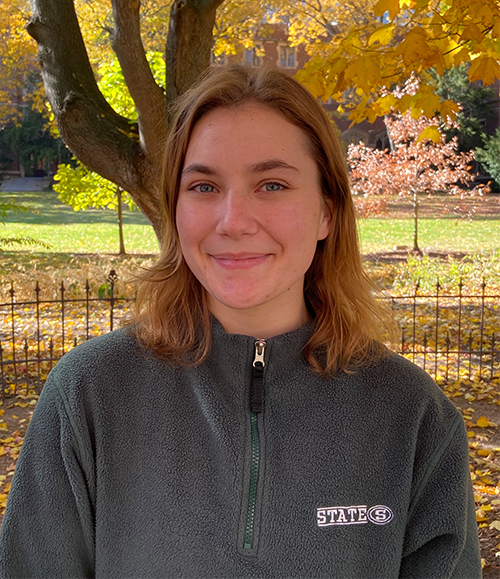 "I am honored, and a bit shocked, to have received the PLS Outstanding Senior Award, and it means a great deal to me! I am so grateful for the many wonderful relationships with PLS faculty, staff, and students that I was able to develop in my three years at MSU.
This department, along with the Social Science Scholars program, have made MSU a home for me and while I am honestly very sad to be leaving, I hope I represent you all well!" Stokes wrote.
Her research under PLS Associate Professor Eric Juenke "spanning the entirety of my time at MSU highlighted for me that what I am interested in utilizing my career for is combining academia with activism.
"In the Fall, I will be attending Queen's University Belfast to pursue an MA in Politics, focusing on the role gender plays in periods of conflict and peace-building, and how an intersectional framework can inform post-conflict policies to create more equitable societies. After returning from Belfast, I am planning to pursue a PhD in Political Science (hint hint admissions committee :))"
Dr. Juenke said Mikayla deserves this award for all her hard work and problem solving abililties.
"Mikayla is one of the most intelligent and resourceful individuals I have worked with in my career. She solves problems on her own, she looks for ways to ask new questions that move our research forward, and she always did everything with a positive attitude. I think she really found out how much she enjoyed politics while collecting and working on data these last few years, and when you enjoy something you are willing to work hard at it. Despite the many challenges of the last few years, Mikayla always expressed her love of the work. I know she will do great things in the future and I will really miss having her on our team," Dr. Juenke wrote.