Stephen Anderson
Graduate Students
Comparative Politics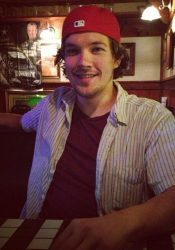 Department of Political Science
BIOGRAPHY
Stephen Anderson entered the Political Science Ph.D. program at Michigan State University in the fall of 2015 to study Comparative Politics with a focus on the politics of sub-Saharan Africa.  Steve's academic interests include state building, leadership and healthcare systems in the context of neopatrimonialism.
Steve graduated from the Biological Sciences Scholars program at The Ohio State University with a BS in Microbiology in 2008.  He spent 5 years working in research and development for a biotechnology company in Michigan before returning to The Ohio State University to work as a mircrobiologist at the Veterinary Medical Center.  It was during his time working at Ohio State that Steve once again began taking classes, and discovered his true passion and future lie within the field of political science, specifically African politics.
When Steve isn't in the the classroom or conducting research, he enjoys playing drums and guitar, scale-modeling, brewing beer, reading non-fiction and spending time with his wife and pets (Lillian the dog and Townes the cat).
---