CANCELED - American Politics Workshop featuring Kesicia Dickinson
Tue, April 21, 2020 12:00 PM at 104 S. Kedzie Hall
The American Politics Workshop series discussion for April 21 will feature Kesicia Dickinson, PhD student in Political Science.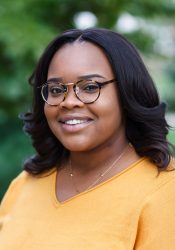 Kesicia A. Dickinson joined the Ph.D. program at Michigan State University in the Fall of 2017. She received a B.S. in Criminal Justice from Jackson State University in the Spring of 2017. Before joining the Department of Political Science at MSU, she worked for a Mississippi-based civic engagement organization where she organized statewide GOTV campaigns and conducted quality of life surveys in rural communities. Kesicia is a 2018 APSA Minority Fellowship Program Fellow. She is interested in American Politics– specifically, race and ethnic politics and political behavior.
Kesicia plans to pursue a career in academia while remaining active in community engagement and social advocacy. She hopes to create and strengthen existing pipelines that connect persons of color to political science doctoral programs.