MPP remembers state Rep. Isaac Robinson
March 30, 2020
MI State House Rep Isaac Robinson passed away Sunday likely due to complications from Covid-19. Mr. Robinson, D-Detroit, had a great impact on Masters of Public Policy students.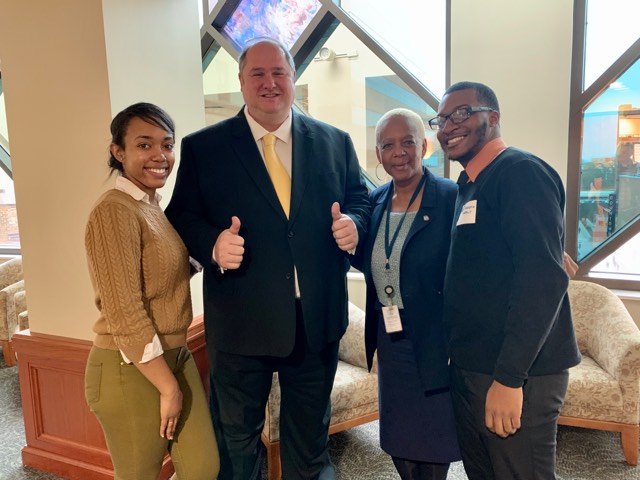 MPP students Asia Hudson and Jeremiah Grant with State Rep. Isaac Robinson, D-Detroit.
Robinson, 44 and a Detroit Democrat, had not been tested for COVID-19 before being taken by ambulance to the hospital early Sunday morning, said his mother, former state Rep. Rose Mary C. Robinson, D-Detroit.
"I called EMS, they took him to Receiving at 6 a.m. and he was dead by 11," she told Crain's.
House Democratic Leader Christine Greig, D-Farmington Hills, said late Sunday that fellow Democrats were "devastated by the loss of our colleague."
"It is with extreme sadness that I share the passing of Rep. Isaac Robinson who was a passionate advocate for his community and constituentism," Greig said in a statement.
Robinson's death comes three days after state Rep. Tyrone Carter of Detroit tested positive for COVID-19.
Carter said Sunday night, "physically, I'm fine," but "devastated" by Robinson's death.
"I'm on the recovery road," Carter said. "Mentally, this one knocked the wind out of me. Detroit just lost a warrior."
Carter described Robinson as a passionate advocate for Detroit.
"A lot people didn't know how brilliant he was," he said. "You'd never know Isaac went to UM. You'd never know Isaac went to Northwestern Law School with (Michigan) Supreme Court Justice (Richard) Bernstein."
A lawyer by trade, Isaac Robinson was elected in 2018 to represent the 4th District in the Michigan House of Representatives, succeeding his mother in office. He served on the House's Commerce and Tourism, Regulatory Reform and Tax Policy committees while representing the eastern portion of Wayne County, including much of Detroit's Midtown and New Center neighborhoods and the city of Hamtramck.
Robinson had emerged as a vocal advocate for Detroiters in the Legislature.
"I will remember Isaac as a proud son of Rose Mary, an accomplished attorney, and a talented and effective representative of the people," House Speaker Lee Chatfield, R-Levering, said in a statement. "But most of all, I will remember him as a passionate defender of the city of Detroit and the people who lived there."
In a statment, Gov. Gretchen Whitmer said Robinson "had a huge heart, a quick wit, and a genuine passion for the people."
Before working in private law practice, Robinson was a political director for a local Teamsters union.
"He was incredibly engaging and empathetic to all around him, and this is a huge loss to our Legislature and the city of Detroit," attorney Jordan Acker, a University of Michigan regent, said Sunday on Twitter.
Robinson never married and had no children, according to his mother.
"Isaac was a fighter: For his community, for progressive issues, and for working people," state Rep. Darrin Camilleri, D-Brownstown Township, said Sunday on Twitter. "He wasn't afraid to let you know what he thought was right — because it usually came from his deep conviction to protect those who are left out and left behind."
As of 10 a.m. Sunday, the coronavirus had claimed the lives of 35 Detroiters.
More than 1,500 Detroit city residents have tested positive for COVID-19, according to the Michigan Department of Health and Human Services.