MSU PLS welcomes new James Madison College Dean
July 28, 2021
This article was originally published in MSUToday June 8, 2021.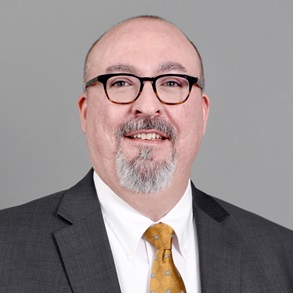 Dr. Cameron G. Thies has been named the next dean of James Madison College, effective July 1. Dr. Thies previously served as professor of international relations in the School of Politics and Global Studies at Arizona State University, and as chairperson of the Department of Political Science at University of Iowa.
 "An accomplished scholar and seasoned administrator, Dr. Thies steps into this decanal role with the skills and experience needed to uphold and advance the reputation for academic excellence embodied by the James Madison College community of scholars," Provost Teresa Woodruff said. "Throughout the interview process he demonstrated an impressive knowledge of JMC, as well as the demonstrable value he places in the college."
 Thies' research interests include foreign policy analysis, interstate and civil conflict, international trade and international relations theory. He has published in a broad range of high-profile journals, and his books have been published by esteemed university presses. He is the former founding co-editor-in-chief of Political Science Research and Methods and editor-in-chief of Foreign Policy Analysis. 
 Recognition of Thies' scholarly achievements include the Ladd Hollist Service Award (2013); the Foreign Policy Analysis Distinguished Scholar Award (2016); the Quincy Wright Distinguished Scholar Award (2017); and the Ole R. Holsti Distinguished Scholar Award (2020), all conferred by the International Studies Association. He also served as president of the International Studies Association (2019-20). He earned his Ph.D. in political science at Arizona State University and both his M.A. in political science and B.S. in business administration at the University of Nebraska-Lincoln.
 "I am honored and thrilled to be joining James Madison College and Michigan State University," said Thies. "JMC's focus on educating students in public affairs is critical during these challenging times for our democracy. As I step into this leadership role, my aim and aspirations are to further enhance the amazing work of the college's faculty and staff as they help transform today's students into tomorrow's leaders — within local communities, in Michigan, across the country and beyond."
 James Madison College was created in 1967 "with a vision of creating a residential college merging the best attributes of a small college with an undergraduate education, focusing on public affairs and firmly rooted in liberal arts." Since then, JMC has been a leader in public affairs education, where students and faculty share a common goal of addressing and examining the major political, legal, social and economic issues affecting our world.
 Linda Racioppi currently serves as interim dean of James Madison College. She succeeded Sherman Garnett, who served as dean for two decades.
 "Interim Dean Racioppi has served her college with distinction during the COVID-19 crisis and a year of unprecedented challenge," Woodruff said. "We are grateful for her commendable work on behalf of James Madison College during this time of transition."