LeFrak Forum to be held virtually April 8-10 to discuss "Freedom of Speech and Intellectual Diversity on Campus"
March 29, 2021
The freedom of speech is one of Americans' fundamental civil rights but how often is that right abridged on college campuses? Even when all speech is welcomed in academia, how often is only one perspective heard?
Over three days in April, political science, law and policy experts will debate "Freedom of Speech and Intellectual Diversity on Campus" during the LeFrak Forum on Science, Reason, and Modern Democracy's 31st Annual Program.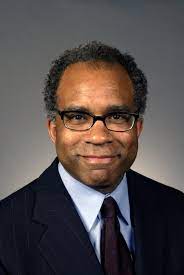 Dr. Randall Kennedy, Michael R. Klein Professor at Harvard Law School opens the conference with a keynote address April 8. Dr. Kennedy is a pre-eminent authority on the First Amendment in its relation to the American struggle for civil rights.
Another highlight of the conference is the debate between Ulrich Baer (NYU) and Keith Whittington (Princeton) over the topic "But Is Free Speech, As Traditionally Interpreted, Even the Right Ideal?" That discussion will take place at 2 p.m. Saturday April 10.
On Friday April 9, panelists will discuss topics of Intellectual Diversity including:
What are the empirical facts about lack of intellectual diversity in academia and what are the causes of existing imbalances? Paper by Lee Jussim, Distinguished Professor and chair, Department of Psychology, Rutgers University, author of The Politics of Social Psychology
In what precise ways and to what degree is this imbalance a problem? Paper by Joshua Dunn, Professor and Chair, Department of Political Science, University of Colorado, co-author of Passing on the Right: Conservative Professors in the Progressive University. Discussant Amna Khalid, Associate Professor of History, Carlton College, author of "Not a Vast Right-Wing Conspiracy: Why Left-Leading Faculty Should Care About Threats to Free Expression on Campus."
What is to be done? Paper by Musa Al-Gharbi, Paul F. Lazarsfeld Fellow in Sociology, Columbia University and Managing Editor, Heterodox Academy, author of "Why Care About Ideological Diversity in Social Research? The Definitive Response," and paper by Conor Friedersdorf, staff writer at The Atlantic and frequent contributor to its special series "The Speech Wars," author of "Free Speech Will Survive This Moment."
In addition to the Baer-Whittington debate, the focus of Freedom of Speech will continue Saturday April 10 as professors and experts from MSU and other universities discuss topics including:
An empirical accounting of the recent challenges to free speech on campus from left and right. What is the true character of the problem or problems here and do they constitute a "crisis"? Paper by Jonathan Marks, Professor and Chair, Department of Politics and International Relations, Ursinus College, author of Becoming Reasonable People: A Conservative Case for Liberal Education (under review.) Respondent April Kelly-Woessner, Professor and Chair, Department of Politics, Philosophy and Legal Studies at Elizabethtown College, author of The Still Divided Academy.
What is to be done? Paper by Nancy Costello, Associate Clinical Professor of Law at MSU and founder and director of the First Amendment Law Clinic, Director of the Free Expression Online Library and Resource Center. Paper by Jonathan Friedman, Project Director for campus free speech at PEN America - "a program of advocacy, analysis, and outreach in the national debate around free speech and inclusion at colleges and universities."
The LeFrak Forum is free and open to the public. A Zoom link will be sent to those who register at lefrakforum.msu.edu. 
The LeFrak Forum on Science, Reason, and Modern Democracy was founded in 1989 in the Department of Political Science at Michigan State University as a center for research and debate on the theory and practice of modern democracy.