PLS students share their research at Mid-SURE
August 1, 2023
The 2023 Mid-Michigan Symposium for Undergraduate Research Experiences was held July 26 in the STEAM Teaching and Learning Facility with more than 330 students presenting their research including several from the MSU Political Science department. 


Josh Taft and Rebekah Batu presented their research on "Analyzing Presidential-Congressional Communications Under Trump." With mentors Joshua Koss and Ian Ostrander, the students coded all of President Trump's tweets to examine the political content of his message.


"Of particular interest for this research project is the way Trump utilized this social media tool to communicate with Congress by discussing its members or pending legislation," their abstract read.

Josh further explained their research this way:
"The research was a delve into understanding how Trump used his Twitter account in his political communication, either directly to/about congress members, as well as his influence on policy and legislation.

As far as the work itself---summarized---it was made up of inputting coding data for each individual tweet on the matters of a member of Congress being mentioned, an attitude sentiment towards that member (if anywhere mentioned), nicknames used, and so on. My research partner (Rebekah Batu) and I did the coding ourselves, with us having completed about 70% of all tweets Trump posted during his time as president (a total of around 26k tweets)."
A Political Science Scholar, Rebekah is a graduate from Athens High School in Troy, MI. Her majors are Political Science Pre-Law and History, with a minor in Law, Justice, and Public Policy. Rebekah has a passion for disability advocacy and will carry that with her as she attends law school upon graduation.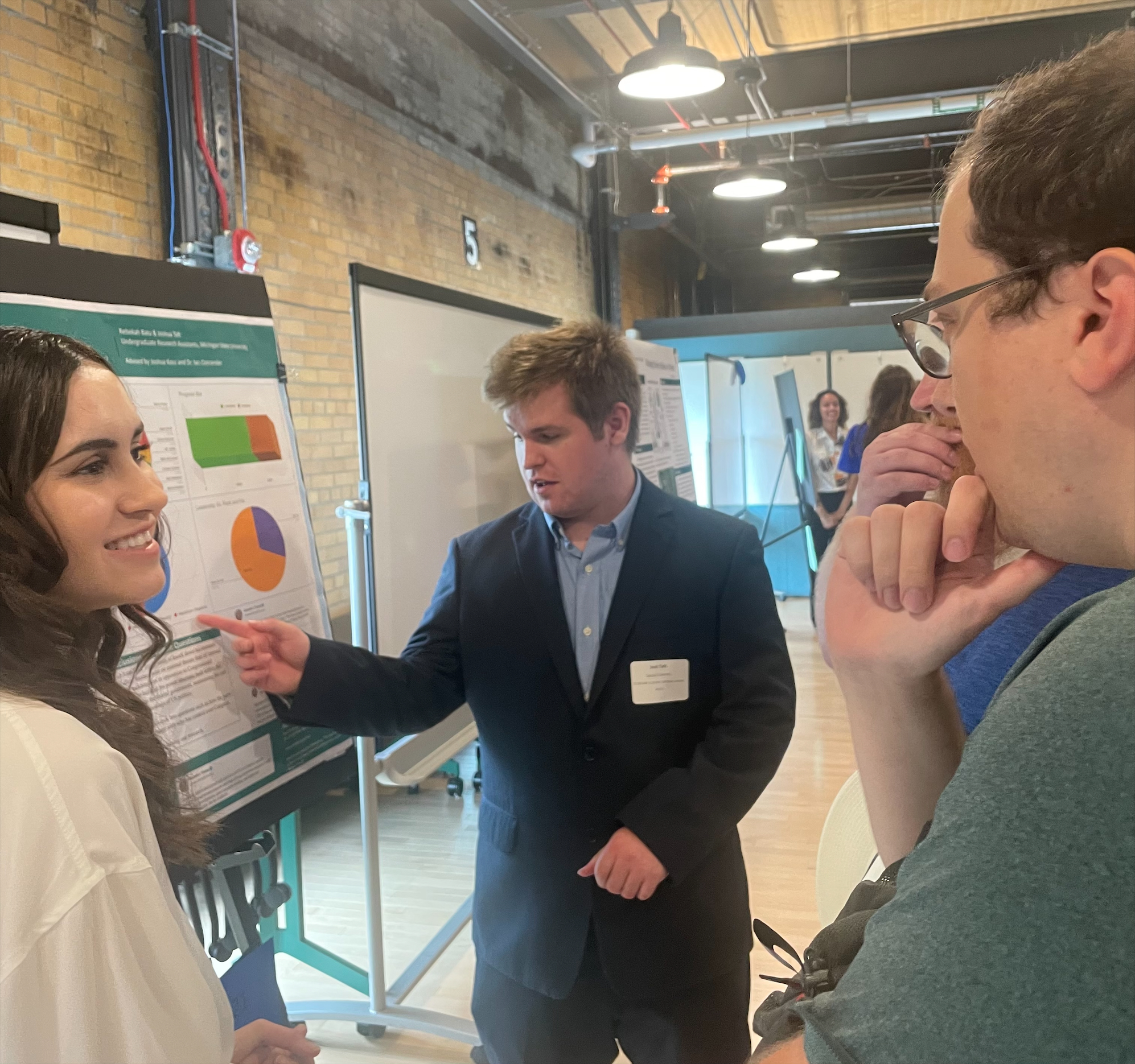 Josh is a Political Science major with a minor in Leadership of Organizations. He is a graduate of DeWitt High School and plans to inovlve himself in politicsl with campaigns, analyzing elections and political data and running for office.

In addition, Jerome Hamilton presented his research on "Thinking Beyond the Box: Investigating Pizza Box Recycling at MSU." 


Also a PLS Scholar, Jerome is a graduate of Baltimore Polytechnic Institute in Baltimore, Maryland, and is majoring in Political Science Pre-Law. Jerome participates in research on recycling on campus and racial disparities in outdoor recreation and is a member of an award-winning research project on the misrepresentation of the crack/cocaine and opioid epidemics. He has pursued internships with a focus on environmental policy and aspires to have a career in natural resource policy.